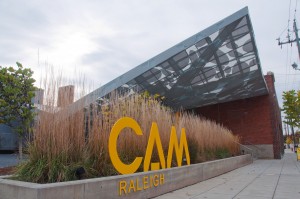 Raleigh, North Carolina is more than just a homey, southern destination. In this bustling city, there are plenty of things to do if you aren't into a country show. Raleigh is home to some of the country's top innovators, scariest homes, best chefs, and local artisans waiting to show you around. Here are 5 quirky and unique things to do for locals and visitors alike.
1.  Contemporary Art Museum (CAM)
No, you aren't in New York. You're in downtown Raleigh's warehouse district walking around the Contemporary Art Museum. Opened in May 2011, the CAM seeks to, "curate the most contemporary works of art and design possible—those still emerging, growing, and living." Here, you and the family are entertained by both live performances and exhibited art from around the country. If you live in the area, you can even enroll in a variety of programs for everyone from middle school students to professionals that help you think more creatively and dive into you artistic side.
2. Oak City Cycling Project (OCCP)
Focused on increasing bicycle ridership, Oak City Cycling Project in Downtown Raleigh will not only sell you a new custom or used bike, but welcome you into the cycling community. With a variety of events and mapped out routes in the area, you're sure to find your way around. Aren't in town for long? Don't worry. They'll rent you a bike for up to $25.00 a day or $100.00 for the week. We suggest you hop on the Capital Area Greenway Trail system, a network of public open spaces and recreational trails perfect for biking. Let's get riding.
3. Stanbury
If you're looking for a bite to eat that's out of the ordinary, look no further. Stanbury is a foodie's paradise, serving up seasonal dishes influenced by, "unique qualities and mood of each day," according to the restaurant. They often highlight local agriculture and ingredients giving it a true Raleigh spin. And they've got some unique drinks as well. Try a sip of a crafted cocktail made from d'asti, lime, and mint called the mosquito or a locally brewed craft beer. We recommend asking questions and being open to new flavors. You never know what combinations will pleasantly surprise you.
4. RDU Observation Park
Located outside near the Air Traffic Control Tower at the Raleigh-Durham International Airport, the RDU Observation Park allows you to watch the planes land and take-off,  listen to pilot-tower communications, and enjoy a sunny picnic. Kids of all ages (adults included) enjoy spending hours playing outside and getting up close to the airport action. The park is also home to Crosswinds Café. Open for lunch Monday through Friday, you can grab a bite to eat while watching the planes through a large glass window.
5. The Giant
Last but not least is local landmark The Raleigh Giant. Known by name names, he is one of many muffler men around the country. They are fiberglass statues that stand 14-25 feet tall that were originally built to hold a muffler on highways and roadsides. Why? We're not quite sure, but Raleigh's Giant has become a man of legend. According to the Midtown Raleigh News, he's wrestled tornadoes. Don't look for him buy his clothes though, as the owners will often paint on new outfits for him. Today, you can find him on Overlook Drive, at Bradsher Landscape Supply, off Gresham Lake Road.
5 Quirky, Unique Things to Do in Raleigh
was last modified:
April 28th, 2016
by