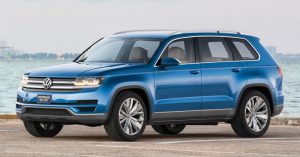 If you thought that Volkswagen hasn't added a new car to their arsenal in a while, that's not exactly a far-fetched assumption. However, the engineers at Volkswagen have used this time wisely. During this juncture, they created the next generation in sporty, hybrid vehicles: the Volkswagen CrossBlue. For drivers who want the efficiency of an SUV without sacrificing performance, it's the quintessential vehicle. Here's a look into everything the CrossBlue promises to offer upon its release.
What Exactly Is It?
The CrossBlue isn't quite a coupe, a sedan, or an SUV. Instead, it takes ideas from each of these types to create something unique. At first glance, it looks like an SUV, but upon further inspection, you'll realize that it's actually more like a stout crossover with room for up to seven passengers. Nevertheless, Volkswagen calls it a coupe. When you see the car, there's a distinctive, attractive quality with svelte curves, sharp lines, and an aggressive overall look, leaving the actual classification in the eye of the beholder.
The Hybrid Aspect
While VW is famous for their hybrid TDI models like the Jetta and Passat, the CrossBlue relies on a slightly different platform. Under the hood, the CrossBlue has a 2.0-liter, turbocharged four-cylinder diesel engine coupled with a six-speed dual clutch automatic transmission and an electric motor at each axle. Not only does this provide exceptional power, but it also gives unmatched fuel economy. Although EPA statistics aren't yet available, VW estimates the CrossBlue will go 33 miles per gallon (mpg) city, 37 mpg highway, and an electric equivalent of 89 mpg.
Hybrid Power
No one has ever claimed that hybrids are a fine-tuned performance machine, but then again, that's not the intention of the hybrid until the CrossBlue came along to change everything. The turbocharged four-cylinder produces an alarming 190-horsepower mixed with 280 pound-feet of torque. To add to that power output, the front-mounted electric motor produces 54-horsepower and 133 pound-feet of torque, while the rear-mounted motor offers 114-horsepower and up to 199 pound-feet of torque. When you put it all together, you get a whopping 305-horsepower and a torrid 516 pound-feet of torque.
With this surprising amount of performance, the CrossBlue sets the bar high. According to Volkswagen, the CrossBlue goes from zero-to-60 in just 5.8 seconds, while also providing a top speed of 127 miles per hour. Unless there's a surprise entry into the hybrid market in the coming years, the CrossBlue appears like it's the beast of the hybrid performance market.
Drive Modes
Some hybrids have begun to offer selective drive modes to make their vehicles feel less like a hybrid and more like a gasoline-powered car, yet the CrossBlue outdoes these features once again. On this crossover, drivers can select from six distinctive drive modes including Hybrid, Sport, Eco, EV, Off-Road, and Charging. Hybrid, Sport, and Eco modes are available right on the shift knob, allowing the driver to change the handling for changing road conditions. The Off-Road switches the CrossBlue to all-wheel drive, while the EV makes this SUV totally electric.
There's no set release date for the arrival of the CrossBlue, but rumors point to 2017 or 2018 for the year the hybrid game changes forever. Try to contain your excitement until it gets here.
What is the Volkswagen CrossBlue?
was last modified:
July 28th, 2016
by