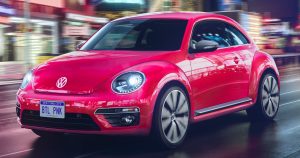 Car enthusiasts got their first glimpse of the concept of VW's Pink Beetle at the 2015 New York International Auto Show. For years, drivers have been nagging Volkswagen to manufacture a pink bug, and this becomes a reality with the 2017 model #PinkBeetle. And yes, this is the first vehicle that is officially named after a hashtag! The limited edition 2017 #PinkBeetle hits the market in Fall 2016 in the United States. Here's what this cute and funky little wagon has to offer.
Pretty in Pink
The color, of course. Not an insipid pale pink but bright and cheerful fuchsia — Fresh Fuchsia Metallic to be exact. This is accented by glossy black mirror caps and black running boards. A peek inside reveals a black dashboard with pink highlights and tartan-style upholstery in black, gray, and pink. Lighting includes Bi-Xenon headlights with LED daytime running lights, LED taillamps, and LED rear license plate lighting. In terms of aesthetics, it's a sporty and stylish little runaround car.
Under the Hood
What powers the spunky #PinkBeetle? The same turbocharged 1.8-liter four-cylinder engine found in earlier Beetle models with a six-speed automatic transmission that produces 170 horsepower and 184 lb-ft of torque. The #PinkBeetle is available as a coupe and convertible. Coupes coast along on 17-inch multi-spoke aluminum wheels and convertibles roll on 18-inch 5-spoke Twister design wheels.
For the Techies
Today's modern cars strive to seamlessly integrate technology into the driving experience, and VW brings that to the new #PinkBeetle, as well. The MIB II infotainment touch screen system with App Connect technology enables smartphone integration with Apple CarPlay, Android Auto, and Mirror Link. The 6.3-inch screen is responsive with touch sensors and gesture controls that allow swiping and pinch-zooming. A proximity sensor detects when a hand is nearby and automatically switches the display to the menu to easily select specific features. USB and Bluetooth capabilities come standard, as well. Other nice-to-have features are heated front seats and keyless push-button start. So this little vehicle packs quite a punch.
Reviving an Icon
There's no question that VW's lovable bug is one of those adorably iconic cars. Die-hard Beetle fanatics have not been happy to hear of rumors that Volkswagen may kill production of the Beetle after 2018. While this has not been confirmed, VW is instead bringing several special edition models to the market, perhaps to revive interest in the enduring Beetle. The #PinkBeetle joins two other special edition models, the Dune and Denim models. While the Dune has a more rugged appeal, and the Denim is a tribute to the old Beetle Jeans model from the 1970s, the #PinkBeetle is by far the more vibrant and trendy of the three.
Remember, the new #PinkBeetle will only be offered in limited quantities. If you're itching to get behind the wheel of one, contact Leith Volkswagen of Cary or get down to your nearest VW dealer to find out when it will be on the showroom floor so you can take it for a test drive.
A Pink Beetle? It Happens in 2017
was last modified:
September 15th, 2016
by