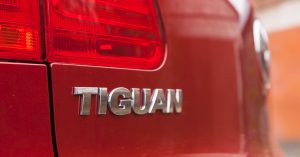 Today's families are always on the go, so it's essential to have a comfortable, safe, reliable vehicle at a price point that's affordable for you. Looking great and having features that make life easier on the go doesn't hurt either. The 2017 Tiguan combines a host of features families are looking for in one great package, making it a top choice for those in the market for a family-friendly vehicle.
Sporty Style With Great Performance
Active families want a car that fits their lifestyle, and the Tiguan, with its sporty design and improved handling, fits the bill. With the options for exclusive 4MOTION all-wheel drive, a standard turbo-charged engine, and a sport mode with even more power, it can match the needs of the busiest families.
Interior Innovations
The Tiguan features an interior that offers comfort, versatile configurations, and details that make it easier to go on the road. Comfortable and durable leather seating, heated front seats, an expansive sun roof, and beneficial details like keyless entry combine for a great interior. What's more, the 40/20/40 split seats with sliding rear seats make it possible to create the exact configuration of cargo space that you need, whether it's a father-son camping trip or a full family trip to the beach.
Strong Safety Features
Safety tops the list when it comes to family-friendly vehicle features, and with its seven stability-improving features and extra safety enhancements, the Tiguan delivers. An impact-resistant safety cage, exterior extra-strength steel panels, automatic tire pressure monitoring, advanced brake drying system that helps maintain traction even in bad conditions, and incredible Intelligent Crash Response System (ICRS) give families the peace of mind they need on the road.
Convenient Technology
Keeping up with the speed of life, the Tiguan offers a variety of beneficial technology features, including Car-Net App-Connect, which lets you select apps from your phone right from the dash, and the Car-Net Guide and Inform system, which helps you navigate directions, weather, traffic, and more while keeping your family safe and connected. Features like the Fender Premium Audio System and Bluetooth technology that connects to your family's compatible devices make every drive a little more fun.
Options for Your Budget
Not every family's budget is the same, and that's another reason to consider the Tiguan. There are plenty of choices in style, features, and extras that let you choose just the right option for your family's needs, budget, lifestyle, and activities. Whether you're most interested in the superior performance and functionality of the savvy S model or want the extra amenities and style boost of the SEL with 4MOTION, there's a choice for you.
Its extensive features, affordable price point, and combination of sportiness and luxury are just a few of the reasons why the Tiguan stands out as an ideal family vehicle. Its updates and improvements for 2017 make it better than ever, so it's worth a second look for those in the market for something that can meet the demands of today's families.
Meet the 2017 Tiguan: Family-Friendly Driving at its Finest
was last modified:
February 9th, 2017
by