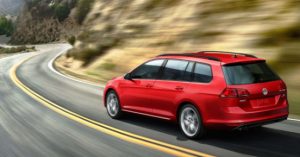 The new Volkswagen Golf SportWagen Alltrack for the 2017 model year offers compact car enthusiasts a sporty model with the most in-demand features currently available. Already available overseas in select markets in Europe, the Alltrack version makes its debut in the United States for the 2017 model year. If you're considering purchasing this highly anticipated model, here are the features you need to know about before making any decisions regarding which compact car to buy and whether the Volkswagen Golf SportWagen Alltrack is the right compact car for you.
4MOTION All Wheel Drive
The most in-demand new feature for the Volkswagen Golf SportWagen Alltrack edition is the 4MOTION all-wheel drive that enables the compact car to have high-quality four-wheel drive, despite its small size. The 4MOTION allows it to have greater efficiency and capability. In this car, you'll be able to make tighter turns and travel across less than perfect road conditions more safely. The model's small size doesn't mean car owners need to compromise on top performance; the 4MOTION ensures that.
Off-Road Setting
The available off-road setting shortens the braking distance required to stop on gravel and other unstable surfaces. This setting enables you to travel, camp, and drive through off-road settings with ease. It's the perfect model for car owners looking to maximize fuel efficiency and adventure. No longer do you need an SUV or truck to participate in a fun off-road adventure.
Mechanics
The Volkswagen Golf SportWagen Alltrack is available as a six-speed automatic with a four cylinder engine. Despite having all-wheel drive, the car still gets excellent gas mileage. At around 24 miles per gallon in the city and 34 mpg on the highway, this compact car is perfect for both long cross country road trips and city commuting through rush hour traffic.
Sleek Appearance
The Volkswagen Golf SportWagen Alltrack has the off-road crossover appearance people want. Available in bright colors and with sports packages, this model can fit in well in city parking garages and the great outdoors. The 2017 model year has a more stylish and detailed exterior design than older models. The hatchback trunk offers a beautiful way to stow larger items, like tents and backpacking gear, with ease.
Cargo Space
For a compact car, the Volkswagen Golf SportWagen Alltrack offers a lot of cargo space for passengers and the stuff you need to carry. With 30 cubic feet of cargo space, there is nearly as much cargo space in the car as a regular-sized refrigerator. The Volkswagen Golf SportWagen Alltrack makes it easy to move what you need to, despite its small size.
If you're in the market for a compact car, consider the 2017 Volkswagen Golf SportWagen Alltrack. With this model, you have everything you need. You have a sporty car that's aesthetically pleasing, and you don't have to compromise cargo space and performance for small size and fuel efficiency. This is why the Volkswagen Golf SportWagen Alltrack edition is expected to do very well in the United States market.
Everything You Need to Know About the Golf SportWagen Alltrack
was last modified:
September 8th, 2016
by