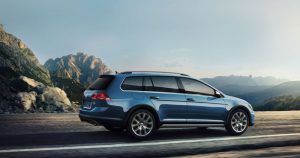 When most people think of the ideal family vehicle, it conjures up visions of gargantuan SUVs or a boxy minivan. Long gone are the days of the station wagon, which ruled American roads for several decades. Despite the preponderance of SUVs and minivans on the highways, there's another vehicle that's quickly becoming a top choice for growing families. The 2017 Volkswagen Golf Alltrack is a spacious and versatile wagon, yet it's still attractive and fun-to-drive, making it a solid choice for new families. If you're searching for something for your family that breaks with tradition, here are a few reasons to consider the 2017 VW Golf Alltrack.
It Goes Anywhere
While your typical family hauler doesn't take too kindly to being removed from pristine local roadways or pothole-free highways, the Golf Alltrack is fine-tuned to go just about anywhere. It uses Volkswagen's patented 4MOTION all-wheel drive system, which automatically transfers torque between the front and rear wheels for ultimate grip and handling. Off-Road Mode, Hill Descent Control, and an electronic differential lock all add to the ultimate off-road drive that's so capable that National Geographic photographer Renan Ozturk uses it for his most strenuous photo shoots.
Excellent Fuel Economy
It's no surprise that bulky SUVs and minivans offer less than adequate fuel economy. Thankfully, the Golf Alltrack provides adequate numbers that are sure to satisfy parents and even most bachelors. Even with all-wheel drive, the Alltrack still sports a whopping 30 mpg on the highway, 22 mpg in the city, and 25 mpg combined, making it one of the most efficient modern family cars.
Safety First
The 2017 Volkswagen Golf Alltrack stays with the company's vision to provide the safest cars on the road, and this year is no exception. The 2017 Alltrack received a five-star safety rating from the National Highway Traffic Safety Administration thanks to a bevy of awesome safety features. The more impressive features lie within VW's active safety suite, which contributes extras like the automatic post-collision braking system and an intelligent crash response system.
Interior Amenities
Even with its versatility and sleek exterior looks, the Golf Alltrack doesn't leave anything to be desired inside. It starts with a spacious cabin that's more than enough space for five passengers while still offering 30 cubic feet of cargo space in the rear. If you need more room, fold down the back seats to reveal an additional 36 cubic feet for a grand total of 66 cubic feet of space.
Aside from its roomy inside, the Golf Alltrack also has several top-notch features to make the ride smoother. If junior needs his tunes, you can hook up Apple CarPlay or Android Auto to the 6.5-inch display screen to blast the latest Raffi or Sesame Street tunes. Plus, you can use VW CarNet to seamlessly link your phone to the head unit so you're never disconnected.
While most people wouldn't think of a wagon as the ultimate family car, these attributes make the Golf Alltrack a wonderful choice for their growing family. Make sure you become one of the first to set the trend.
Why The 2017 VW Golf Alltrack Is the Ideal Family Vehicle
was last modified:
January 5th, 2017
by