If any vehicle could stake a credible claim as being "iconic," it's the Volkswagen Beetle. Though its form has undergone alterations – albeit minor – the one hallmark that spans every generation of the Beetle is its circular head light. Its diminutive frame, which subsequently creates an intimate cabin, appeals across generations. For decades the Beetle has continued to show strong sales, despite the loud minority of detractors, who, ironically, have likely never driven a Beetle.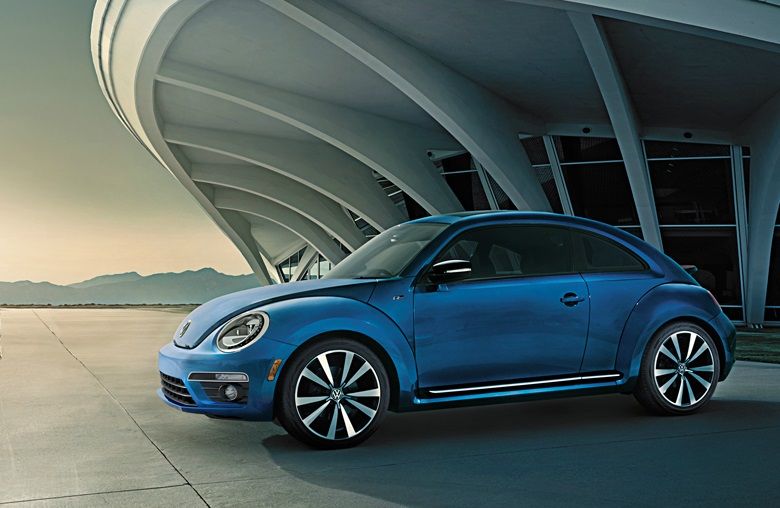 2014 ushered in a new trim level for the Beetle, the R-Line. It offers a more powerful engine, one of the chief complaints from the aforementioned critics. A 2-liter four cylinder engine with direct injection can create up 210 horsepower, a nice improvement for a vehicle of the Beetle's stature. With greater power comes greater … fuel consumption (okay, not as grandiose as Spiderman's "responsibility" line). Volkswagen counters that with electric power steering, which saves fuel, and gearheads be aware: the automaker placed great emphasis in designing this steering platform to have a natural, robust feel in most high-performance vehicles.
Additional changes distinguish the R-Line from its siblings.
On the exterior, the 2014 Volkswagen Beetle R-Line takes cues from the original model by including pronounced running boards. A large spoiler on the rear of the car also augments the sporty aesthetics the company wanted to lend this version of the Beetle. It looks the same manner as it drives: impressively.
On the interior, there's a chic mixture of black materials with chrome accents. It's a great contrast for brighter colored exteriors. The steering wheel proudly displays an "R" logo at its base. Along the top of the dashboard, in addition to the standard speedometer cluster, there's a pod of gauges with a lap timer and turbo boost.
At this point, you should be thinking, "This isn't the Beetle I've heard about."
The R-Line also comes in automatic or manual transmission. Drivers may also opt for Fender audio systems in higher-end packages.
No matter where you live – Cary, Raleigh, or beyond – there's a great, reliable model for you at Leith Volkswagen in Cary, North Carolina.
2014 Volkswagen Beetle Is Bad (in Such a Good Way)
was last modified:
February 18th, 2016
by